Art Lab for Kids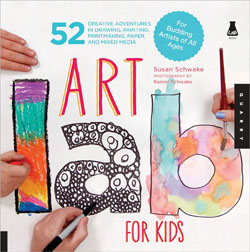 October 21, 2012, 1:00 pm - 4:00 pm
Eric Carle Museum, Amerst, MA
Special Sunday: Monster Mash
Free with Museum Admission

Make your own beautiful textured papers to create a friendly (or fierce!) monster of your own design! This fun-filled art adventure is great for all ages and abilities and will be led by Susan Schwake, author of Art Lab for Kids: 52 Creative Adventures in Drawing, Painting, Printmaking, Paper, and Mixed Media-For Budding Artists of All Ages. Book signing to follow.
The Eric Carle Museum of Picture Book Art
125 West Bay Road
Amherst, MA 01002
---
March 1-31, Opening March 3, 5pm - 8p.m. during Art Stroll
artstream, 56 N Main St , Rochester NH
"Inspired By"
Artists and children exhibit together at the Art Lab for Kids book launch!
The children's art from the pages of ALFK and the contributing artists' work which inspired them!


---

March 24, 11am to 1pm
WishStudio, 21 Middle Street, Newburyport, MA 01951, P978-255-2455

Art Lab for Kids book signing and creative open studio
Free for all!


---

March 31, 10am - 12pm
RiverRun Bookstore, 142 Fleet Street, Portsmouth, NH
Book Signing and workshop

---
Saturday, April 28th, 10:30 to noon
NH Children's Museum in Dover, NH
Free workshop for children ages 4 and up!

Everybody loves a friendly monster - so why not make one to call you own? Come make texture collage style monsters on paper with Susan Schwake. We will be texture explorers first - then create beautiful textured papers to cut up and become our collage pieces for our monsters!